News
published 6/15/2012
(Rev. Neil McDavid) - Ten "new places for new people" and three new ministries were highlighted at our recent Alabama-West Florida Annual Conference. New church starts, new second campuses, off-site services, new services, new ministry models and a church re-start are among the ways new people are being reached in small, mid-size, and large churches across the conference.
Over the next several weeks, these "new places for new people" will be highlighted in our NewsCONNECTION as a hopeful encouragement to all churches to consider new ways and means to reach out to new people. To discern the way forward for your church in this regard, you are encouraged to join the Alabama-West Florida Conference Prayer Initiative (to see full plan click here). Essentially, every church is being asked to form a prayer team to pray through what it means to "make disciples for Jesus Christ for the transformation of the world" in their particular context. The prayer team would consist of three to five people, including the pastor, who would meet weekly for 90 days beginning September 1, 2012 and pray through four questions (click here and scroll down). Out of this time of prayer and discernment, the church is asked to respond in one of three ways: (1) step up and sharpen the existing focus on making disciples through worship, Sunday school, small groups, men's/women's ministries, youth, children and present ministry; (2) step out in making disciples by starting a new community of faith, a new service, establishing a new mission outreach; (3) express a renewed readiness to follow God's leading for the vision God is placing before your church. The challenge for the church today is to essentially reclaim our missional DNA and recommit to be missionaries in our own communities.
As you join the Alabama-West Florida Conference Prayer Initiative consider the seven R's of revitalization and renewal.
• Remember your purpose
• Reconnect with your community
• Renew your commitment to your mission
• Revision the future
• Rediscover your missionary spirit
• Reflect, adjust, do
• Resource for ministry www.awfumc.org
For more specific information and resources on the Alabama-West Florida Prayer Initiative, join the AWF Prayer Initiative on Facebook and/or visit www.awfumc.org/prayerinitiative.
---
published 6/8/2012
Led by United Methodist Children's Home Chaplain Rev. Lonna Lynn Higgs, spiritually vibrant and mature volunteers from among United Methodist clergy and lay ministry professionals will now serve as spiritual caregivers in each of UMCH's program locations throughout Alabama and northwest Florida. The Spiritual Care Ministry's mission to be "sowers of seeds of love, hope, and faith" is based on Matthew 13: 3-9(NRSV):

"And he told them many things in parables, saying: 'Listen! A sower went out to sow. And as he sowed, some seeds fell on the path, and the birds came and ate them up. Other seeds fell on rocky ground, where they did not have much soil, and they sprang up quickly, since they had no depth of soil. But when the sun rose, they were scorched; and since they had no root, they withered away. Other seeds fell among thorns, and the thorns grew up and choked them. Other seeds fell on good soil and brought forth grain, some a hundredfold, some sixty, some thirty. Let anyone with ears listen!'"
In the fall of 2012, prospective members of UMCH's Spiritual Care Team will participate in a multi-day retreat to explore the nature of caregiving in the context of suffering children, youth, and families. Among others, the retreat will include the following sessions and workshops:
• UMCH: Its History, Organization, Leadership, Staff, and Programs
• Love and Logic as a Tool for Spiritual Support
• Pastoral Care in the Context of Suffering, Brokenness, and Abuse
• Coaching Skills for Spiritual Caregivers
• Keeping the Boundaries: Establishing and Maintaining Healthy Relationships with Staff and Residents
• How Spiritual Caregiving Is Different from Social Work, Therapy, Counseling, and Coaching
• Spiritual Care and the Parable of the Sower: Generously Giving and Giving and Giving. . .with Mixed Results
• One Child, One Family At a Time: The Longing for Caregivers' Undivided Attention
At the conclusion of the retreat, participants will be invited to make a two-year covenant with UMCH to serve as a member of the spiritual care team. Upon assignment to one of UMCH's programs, spiritual caregivers will spend ten to twenty hours a week with the staff and the children, youth, and families in care. They will receive ongoing support through individual coaching, group coaching, and continuing education. Caregivers who serve effectively may be invited renew the covenant every two years.
For more information contact Rev. Higgins at Rev. Lonna Lynn Higgs 205.919.8298.

---
published 6/7/2012
The 2012 Alabama–West Florida Annual Conference was held June 3-6 in Mobile, AL with the theme, "Partnership in the Gospel....Serving the World." Bishop Paul L. Leeland, presiding over his fourth annual conference session since becoming the resident bishop, welcomed clergy and lay members to Christ UMC in Mobile.
Prior to this year's conference, Bishop Leeland urged the churches of the conference to receive a special offering for Imagine No Malaria. The people of the AWF Conference responded by contributing over $54,000. The offering collected at the commissioning and ordination service for the Ministerial Education Fund collected over $1,600.
The 2012 Annual Conference session was opened on June 3 with hundreds from throughout the conference gathering for worship. Dr. Belton Joyner delivered the sermon, "What Color was the Carpet" based on Philippians 1:3-5, asking attendees if partnership was the same as being in agreement. He said, "Partnership in the gospel is not about being in agreement, or already being in perfection, but about serving the world and in one another, and thus, serving God." A combined worship band provided inspiring music for the service including a moving rendition of, "Holy, Holy, Holy."
One deacon and two elders were ordained as members in full connection, and one provisional deacon and eleven provisional elders were commissioned on the evening of June 4 at
Dauphin Way UMC
. It also included the ordination of one being recognized from another denomination. Prior to the start of the service, the chancel choir, chancel ringers, brass quintet and men's ensemble of Dauphin Way UMC presented worshipful music led by John Ricketts.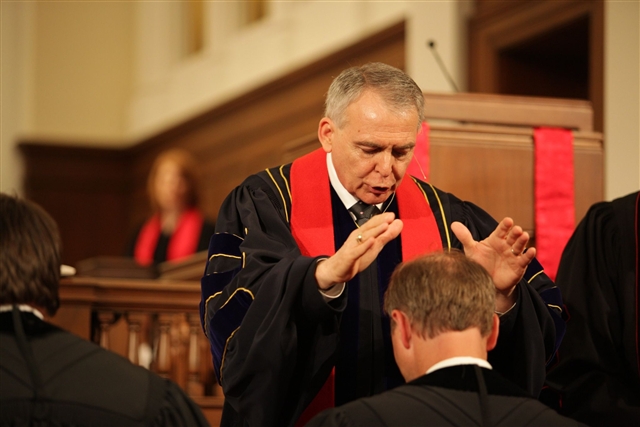 Twenty-seven clergy and clergy spouses who died in the past year were remembered during a Service of Commemoration and Holy Communion.
Dr. George Mathison
delivered the sermon, "The Hall of Saints." An overflow crowd remembered those that have given many years of service to the conference. Surviving family members were hosted at a special luncheon by the AWF Commission on Archives and History.
Twenty-seven clergy retiring this conference year were honored on Monday, June 4. Together, they represent 502 years of combined service to the United Methodist Church.
Rev. Fred Zeigler
spoke on behalf of the retiring class, passing the torch to
Rev. Patsy Winford Gibson
. Patsy represented the 2012 class of ordinands.
The Conference was honored and blessed by the outstanding leadership of several guest speakers. Coach Mike Gottfried, former football player and coach and EPSN color analyst, gave the fourth annual "Mary Ellen Bullard Leadership Address" during Tuesday's Laity Banquet.
Dr. Ben Witherington
, Professor of New Testament for Doctoral Studies at Asbury Theological Seminary, led the conference in two morning Bible studies.
Dr. Dana L. Robert
, Truman Collins Professor of World Christianity and History of Mission and co-director at the Center for Global Christianity and Mission; Boston University School of Theology, led two teaching sessions.
Dr. Shirley Woodie, AWF Conference Secretary, was recognized by Bishop and Mrs. Paul Leeland for her outstanding leadership in our conference. Dr. Woodie will retire from her duties as conference secretary but will remain active in the conference.
The clergy appointments for 2012-2013 may be found online here.
A compelling addition to this year's conference was the showing of eight district videos at the beginning of various sessions that informed the conference about fruitful activities going on within each district. Each district superintendent presented this information about their respective district.
The conference also participated in an UMCOR relief kit drive yielding more than 1.275 relief kits.
The 2013 budget was established at $11.131 million for mission and ministry, down 2.61% from 2012.
Membership stands at 146,782, down less than 1% from the previous year. Worship attendance stands at 66,145, down 2%. Church school attendance stands at 28,131, down 2%. Small groups showed an increase: there was a 38% increase in persons in covenant discipleship groups, 6% increase in short-term classes for learning of all ages and mission teams showed increases in all categories.
The 2013 session of the AWF Annual Conference will be held June 2-5, 2013, at Christ United Methodist Church in Mobile, AL. We express our sincere appreciation to the Christ United Methodist Church Leadership Team and Rev. Jeff Spiller for their hospitality during this year's annual conference.
A downloadable pdf recap that can be used in your Sunday church bulletins can be found
here
. Full coverage of the 2012 AWF Annual Conference may be found at
www.awfumc.org/ac2012
. To see photos taken by Luke Lucas, click
here
.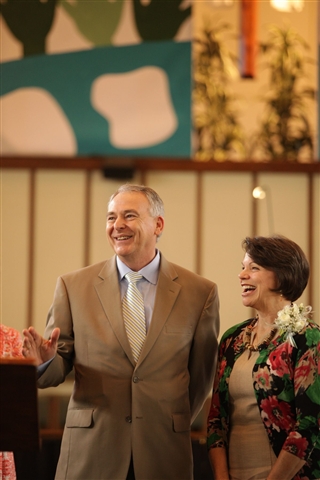 ---
published 5/18/2012
(Lisa Pierce) - From Friday, May 4, through Sunday, May 6, ten bikers/cyclists crossed Alabama to raise awareness about the housing needs in some of the poorest areas of our country, while raising money for home repairs in Lee, Macon and Sumter counties.

The Third Annual Cycle of Service benefited Alabama Rural Ministry's (ARM) home-repair efforts. Most of the families ARM serves are the elderly, disabled or single parents who live on limited or fixed incomes. ARM also hosts two free summer camps for underserved children in Livingston and Tuskegee. Most of the work is done in the summer time with two mission camps coordinated for visiting youth and church teams.

This year's goal is to raise $30,000, which will be applied to the cost of purchasing the construction materials we use in repairing homes for up to 30 families. Riders had already raised more than $20,000 toward that goal. Sponsors include the Alabama Retail Association, Best Copies, Carr Allison, Country's Barbecue, Dilworth Development Inc., Dynamic Sports Products, James Bros. Bikes, J. Smith Lanier & Co., Mann's Wildlife Timberlands, Scott Bridge Co., Shakey's Pizza, Singleton Marine Group, Leigh Ann Tyler/State Farm Huntsville and Young Photography. Other contributors include the 122nd Troop Support Command Selma, Aldersgate United Methodist Church (UMC) Montgomery, Auburn UMC, Epworth UMC Columbus, Livingston UMC, Memorial UMC, Montgomery Multisport, SES Montgomery, St. Mark UMC Columbus and Tuskegee UMC.
We are also grateful to Liberty UMC from Notasulga who served one of our families, Ms. Sweeney, on Saturday May 5th! They repaired sheetrock and electrical work after Ms. Sweeney's home was broken into and vandalized for her copper wiring.

You and your church can still contribute to the cause now by credit card at http://cycleofservice.arm-al.org or mail in a check to P.O. Box 2890 Auburn, AL 36831.

Bikers participating in the Cycle of Service rode during most of the day and then helped with community events. Profiles of the riders can be found at http://cycleofservice.arm-al.org.

Some riders will participate all three days, while others will join various legs of the ride, mostly along U.S. 80: These were the routes and legs of the journey:
• State-Line- to-State-Line Challenge including the Century Ride, 250 miles from the Alabama/Mississippi to the Alabama/Georgia borders, begins in Livingston and goes through Cuba, Selma, Montgomery and Tuskegee, then ends in Phenix City.
• Century Ride, 115-mile ride on the first day of the three-day ride.
• State-Line- to-State-Line Challenge, 223 miles from Cuba to Phenix City.
• Final 45 miles from Tuskegee United Methodist Church parsonage to Phenix City. This leg begins at 8 a.m. Sunday, May 6.
To see pictures of the ride you can see our facebook profile below.

For more information, go to http://cycleofservice.arm-al.org or www.facebook.com/Bikebama.
---
published 5/11/2012
(Pat Luna) - Every three years the Upper Room offers The Academy for Spiritual Formation in the Southeast Jurisdiction. Three of the six members of the leadership team are from AWF: Pat Luna (Point Washington UMC) is the Retreat Leader. Dr. Robbins Sims (FUMC-Eufaula) is the Theologian. Kathy Norberg (Gulf Breeze UMC) is the Hospitality Coordinator. Minta McDavid, Chair of the AWF Spiritual Formation team said "This is very exciting to have so many people from AWF to lead this important ministry. The Academy experience is a life transforming one and one I would hope all in our conference could have if and when they feel that deep yearning and call to attend."
The Academy is a two-year intentional journey of spiritual formation that was started nearly 30 years ago by a group of people including Danny Morris, Bishop Rueben Job, Glenn Hinson, Douglas Steere, Wendy Wright, John Mogabgab and Gerald May. The Academy is a ecumenical, covenantal community where the participants seek a deeper relationship with God as they grow in the image of Christ for the sake of others. Participants meet at Camp Sumatanga for five days each quarter for two-years. Clergy and laity are selected to be a part of the Academy from all over the country.
A typical day includes worship, meditation and reflection, covenant group meetings, and morning and afternoon curriculum sessions with faculty. During each two-year academy, a total of sixteen courses are offered. These courses, taught by outstanding scholars and leaders in today's church, offer insights into the history and practices of Christian Spirituality. Over the course of the two years, two topics per session are examined. Topics include Spirituality of the Psalms, Early Christian Spirituality, Healing and Wholeness, Prayer and many more. Faculty for Academy #34 includes Roberta Bondi, Bob Mulholland, Don Sailers, Robert Benson, Margaret Guenther, Elaine Heath, and UMC Bishop Jung.
The next Academy for Spiritual Formation begins July 31, 2012. A number of people from AWF have already been selected to participate. Space is filling fast so if you are interested in participating apply soon! For more information, visit www.upperroom.org/academy or contact Pat Luna at patluna@charter.net or 334-262-9440.
From left to right Pat Luna (AWF), Kathy Norberg (AWF), Robbins Sims (AWF), Irene Brownlee (MS), Linda Beasley (LA) and Blake Kendrick (NC).
---